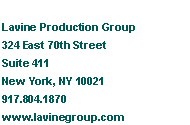 Teaching The Children of Willesden Lane
for Annenberg Media
Video and Web resources to help teachers and students use the book, which tells the story of Lisa Jura. She was a Jewish teenager who relied on music to survive after she came to England on the Kindertransport, right before World War II. Includes a special performance by the book's author, pianist Mona Golabek.




The Art of Teaching the Arts
for Annenberg Media
A professional development workshop for high school teachers of dance, music, theatre, and visual art. Eight one-hour documentary programs.




Connecting With the Arts: A Workshop for Middle Grades Teachers
for Annenberg Media
A guide to teaching the arts in conjunction with other subjects. Eight one-hour programs alternating a roundtable of teachers with classroom documentaries.




Connecting With the Arts:
A Teaching Practices Library, 6-8
for Annenberg Media
Visits to schools where teachers have incorporated arts integration strategies into their work. Twelve half-hour documentaries.




The Arts in Every Classroom: A Workshop for Elementary School Teachers
for Annenberg Media
For teachers who want to use the arts more effectively in their classrooms, this series provides a multi-arts curriculum unit and a process for designing arts-based units. Eight one-hour multi-camera programs, with documentary segments.



The Arts in Every Classroom: A Video Library, K-5
for Annenberg Media
A multimedia resource for teachers, providing a window into classrooms around the country where the arts play a vital role in teaching and learning. Fourteen half-hour programs.




Learning Journeys
for The Big Picture Company
The story of the first year of a new high school in Providence, Rhode Island, as told through the eyes of four students and two teachers. Half-hour documentary.




The Missing Link
for Annenberg Media
A group of middle school teachers investigate new ways to engage students about important math topics. Eight one-hour multi-camera programs, with classroom segments.




New American Schools: Getting Better by Design
for New American Schools and Annenberg Media
How can schools improve the job they do? Teachers, principals, parents, and students introduce viewers to seven successful approaches to changing the way a school operates. Series also includes two discussion programs with public education experts, including former Secretary of Education Richard Riley.




The Synergy Project
for Annenberg Media
Short accounts of challenges faced by educators in every state, on topics from school finance to jargon to accountability. These discussion-starters were created to help policy makers see their own problems through the eyes of others. Seven short documentary modules, produced for the Education Commission of the States.




ATLAS Communities: Inventing the Future
An introduction to the successful model for school reform.




Expeditionary Learning Outward Bound
A presentation reel for another successful model for school reform.